The world of light-duty trucks just got a whole lot more interesting with the Global Launch of the Hino 300 Series 817 4×4 truck.
Unusually for Hino, they had a gap in their solutions offering for clients, and a number of years ago they set about filling that gap. While they had the 4X2 Hino 300 Series, many clients wanted a 4×4 offering.
To give you an idea of the time and effort took, this release started some eight years ago and became almost an obsession for their product manager Daniel Petrovski.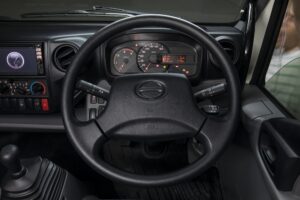 Daniel is I suspect a bit of a bushman at heart and has been in the trucking industry for over 20 years in various roles and knows a thing or two about his trucks.
Seeing him release the Hino 300 Series 817 4X4 was as close as we can get to see a bloke deliver a baby.
Daniel and the whole team at Hino Australia, headed by Steve Lotter, and overseas have an infectious passion for their trucks and when you get to have a close look and drive of the Hino 300 Series 817 4X4 you can understand just why they are so pleased with themselves.
The Hino 300 Series 817 4X4 Light Duty Truck is a beauty!
Before we have a look at the stats it is important to note that the Hino 300 Series 817 4X4 was specifically designed in Australia for Australian conditions. Hence the global launch here.
Here is a multinational trucking company, part of the Toyota group that spent the time, effort, and money to develop a segment-specific truck for Australian conditions.
You have to admire that.
Let's look at the quick facts:
Hino N04C 4 liter diesel engine
Euro 5 ADR 80/03 emission compliant
Hino Diesel Particulate active Reduction filter (DPR)
Delivers 165hp (121kW) at 2500rpm and
464Nm of torque at 1400rpm flat to about 2400rpm
6 Speed Manual Overdrive transmission
Dual range 4×4 transfer case
Manual freewheeling hubs
Push-button shift on the fly 4X4 (once hubs are locked)
Super low range crawl gear of 2.2:1
Ventilated Disc Brakes Front & Rear
High air intake filter
Magnetic suspension driver's seat with lumbar adjustment
3 contact point entry/exit everywhere
Cruise Control
Dual SRS Airbags
Tilt-adjustable steering wheel
Vehicle Stability Control (VSC)
Anti-lock Brake System (ABS)
IPA69K submersible Reverse Camera (waterproof)
ECE R-29 Cab Strength Certified Available in 7 seat crew cab
Rear passenger air conditioning
840mm wide chassis with a rivet-less top flange and grid hole design,
Well maybe that wasn't a quick look, but there are so many features that the Hino 300 Series 817 4X4 Light Duty Truck has as standard that it is hard to be brief.
The Hino 300 Series 817 4X4 Light Duty Truck is, as mentioned, is a beauty.
It is exceptionally easy to drive, performs both on-road and off-road, in harsh conditions, faultlessly, is relatively economical, and most importantly has been specifically designed and tested in Australia for our unique criteria.
There are a couple of things that I wasn't so keen on. The rear bench is pretty flat and can become uncomfortable over a short period of time, there is no automatic version and the lock up on the rear retractable seat belts seemed a little too sensitive, especially over rough roads.
The Hino 300 Series 4×4 has already undergone years of extensive testing and evaluation here with real-world customers.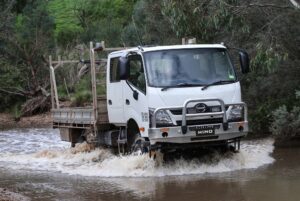 Prototypes of the Hino 300 Series 4×4 have been used in day-to-day operations with a number of customers across Australia with two customers taking part in long-term field testing: Cook Shire Council in Far North Queensland and Kennedy Drilling in remote Western Australia.
Hino test engineers have studied the vehicles in these operations, and those learnings combined with the testing carried at its durability facilities in Japan produced a model purpose-built for Australian applications.
"We have been testing prototypes of the 4×4 here for over three years, with real-world customers whose feedback has enabled us to refine the specification of a truck built specifically for the Australian market," Daniel said.
"The 300 Series 4×4 is a specialized vehicle and this sort of approach has genuinely benefitted what we can now offer our customers."
"There's testing – and then there's real-world in-field testing, which is what we have done with this vehicle."
We will have a full drive review early next year so stay tuned.